Emojiplanet Slot Launched By NetEnt
28 August 2017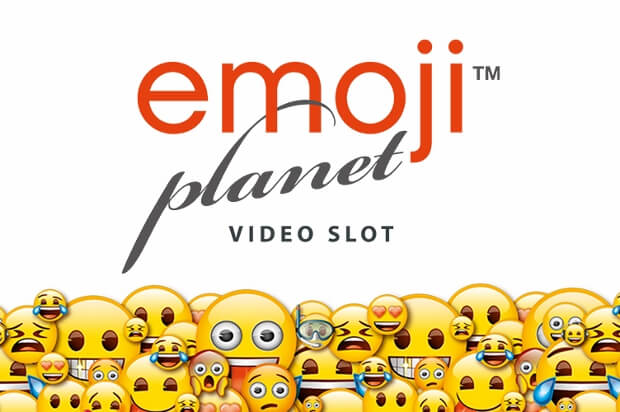 Emojiplanet by NetEnt just had its premiere in August 2017, conveniently around the time when the summer flick with the same theme hit the movie theatres around the world. The leading Swedish provider obtained the license to use an assortment of popular smileys and other miniature images to bring their new video slot to life.
We live in the age of Facebook, Twitter and other instant message services. We're not only their contemporaries – they are parts of your everyday lives and we use them every chance we get. One smiley face and one sad face are simply not enough to convey the complexity of our messages in a faster way, so people designed hundreds of emoji icons to make our texting easier and more fun. Why should only texting be fun when we can look at emojis while spinning the reels? That must be what NetEnt developers thought when they decided to create Emojiplanet. With a modern 5×6 reel grid and cluster pays instead of regular win lines, Emojiplanet plays just as great as it looks.
Boredom is not allowed on Emojiplanet! Smileys may be static, but if mixed up in specific ways they can result in humorous combinations. Emojiplanet video slot boasts 8 symbols, all emojis of course. There's the smiley face that cries tears of joy, the curious alien, the poo emoji, the rocket, the kiss mark, the pizza, the bomb and finally two hearts. The laughing-out-loud smiley is the highest paying symbol, in front of the alien and the poo. Emojiplanet has a Wild symbol as well, which is represented by a Wild Star logo.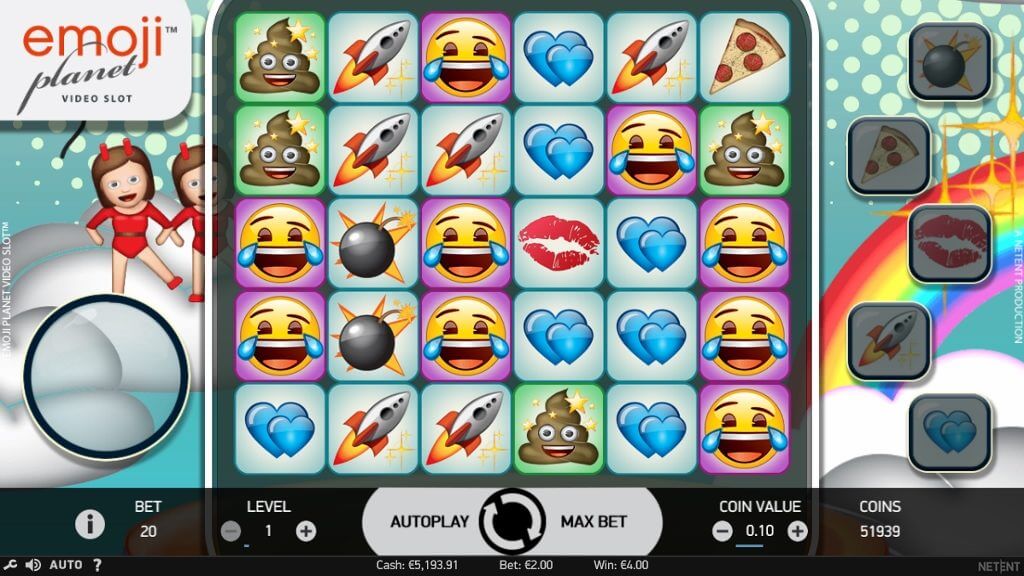 For a lightweight theme, Emojiplanet seems more action-packed than most adventure, crime or war-themed slots. Just like Gonzo's Quest, Emojiplanet benefits from Avalanche Reels. Prizes are paid out for clusters of identical symbols, and the winning symbols will disappear to make way for new ones that will fall into position instantly. The possibility of new wins enhances with each spin and each Avalanche activity. Five symbols is the minimum you need to form a winning combo. There are five bonus games in total. Each of them has a corresponding meter on the side. A full meter signifies the activation of one of the features: the Kiss Mark feature, Rocket feature, Bomb feature, Pizza feature and Two Hearts feature. They are all different in terms of rewarding the spinner. Overall, there's potential for winning free spins, cash prizes, stacks of Wild symbols, Sticky Wilds, re-spins, multipliers and more.
Obviously, with the goal to celebrate the power of pictograms and modern, virtual communication, NetEnt created a world where only emojis exist to express laughter, anger, our urges and aspirations. Sending text messages without emojis is like drawing without colours. That is probably why none of us can go back to the ancient times when emojis didn't exist yet.
Judging by the promotional campaign for Emojiplanet, NetEnt is convinced that this release could be their next Gonzo's Quest. Time will tell if the emoji craze is here to stay or it's only a seasonal trend.