Mega Moolah Delivers another World Record Win at Grand Mondial
29 October 2018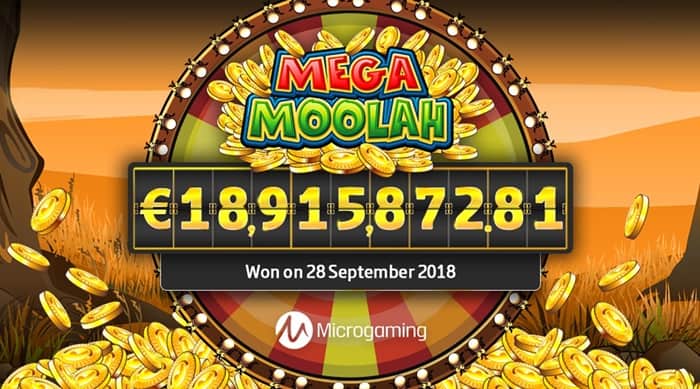 If you're not playing Mega Moolah perhaps you should be. The Microgaming slot can surely now call itself the undisputed champion of progressive jackpots after it delivered its second world record slots pay-out with a £16,838,190 or €18,910,668 win.
The winning spin took place at Grand Mondial Casino on September 28th, 2018. The player has decided to remain anonymous, but we can assume they're celebrating this massive win.
Progressive jackpot slots offer the chance to win big, but Mega Moolah has consistently delivered on that promise. This is the second time the game has broken the world record for an online gambling payout.
The first winner was not anonymous. Jonathon Heywood, a British soldier, clicked to spin and saw the prize window count up to £13.2 million in October 2015. At the time – when a pre-Brexit pound was stronger – that meant a win worth €17,880,990.
Mega Moolah is a progressive jackpot slot that plays over multiple sites. All online video slots have jackpots of some sort, but progressive jackpots are different. They take a tiny cut off each wager and put it towards a central prize pool. By linking machines across multiple sites and with the cash from many many thousands of players progressive jackpots can dwarf any other prize in online gambling.
Players watch these machines closely. While timing when you play a game shouldn't have any effect on the likelihood of you winning, with progressive jackpots you can wait until the prize peaks.
Mega Moolah fans have been doing that for some time. After the jackpot was won in December 2017, Mega Moolah didn't deliver a win until April 2018. That fact that that win was won in New Zealand meant that the British jackpot stayed relatively high despite resetting as usual.
And they kept watching as the jackpot ramped up again, despite some smaller wins, through the late spring and summer of 2018, promising a world record as the September came along.
Describing the £4.1 million in June as "small" shows the power of progressives, and this machine in particular to deliver enormous sums. Mega Moolah could be an awful game – and it isn't – and still be one of the most popular in the whole online video slots scene.
Online casinos have made these sort of sums an international concern. Before the web took off, it was in big Las Vegas casinos that big jackpots were paid out. Jonathon Heywood's win broke a world record set in the Palace Station Casino in 1998.
While there's no rhyme or reason to these random wins, Mega Moolah slot seems to have a record of delivering big wins, coming close to delivering £1million prizes in 2017.
Jonathon Heywood won his prize at Betway. His winning spin cost just 25p. A former soldier who had served in Afghanistan, Jonathon's first thought was for his father, for whom he vowed to fund vital medical treatment.
No doubt the new winner also has plans for their big win.
And the next big win can't be far away. Mega Moolah has four jackpots of various sizes, and despite the massive win in September, the game was soon up and going with a prize approaching £3million.