GAME DETAILS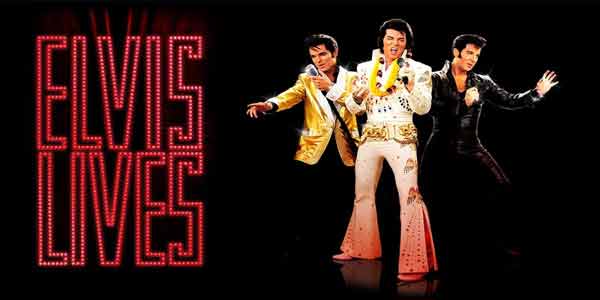 Rating

Overall Ranking
WMS Ranking
Software
Game Types
Game themes
RTP
Release date
Elvis Lives Slot Game Review
It has been estimated that when Elvis was in residence in Las Vegas, half the visitors to the city saw him in concert. There is just something about Elvis, Vegas, and gambling that resonated with people – and still does.
SG Digital and WMS have done the logical thing and used Elvis as a theme for their recent slot release. It's not the first time that Elvis has graced the reels, so how it will compare?
Elvis was one of those larger than life figures that touched the lives of hundreds of millions of adoring fans. Some people love him so much they still think he is alive! It stands to reason that if you are making a slot based on the King, it needs to be an over the top experience as well. SG Digital seems to think so and has launched a King size slot with huge symbols, rows, and extra features.
It never gets overwhelming, nor does it feel garish like one of the Kings rhinestone jumpsuits. It is an exciting, glamorous gaming experience, as one of Elvis' shows. The slot has proven popular in land-based casinos as well as online – it's like having a Vegas show in your pocket. Fans of music, of Elvis, Las Vegas, or larger than life games with a ton of features need to try this game.
Elvis Lives Slot Machine Features
The first thing you will notice is the huge gaming set up. It may only have 5 reels, but SG has packed up to 12 rows on each! This means that there is room to toss in plenty of oversized symbols as well which pop up regularly. Despite the massive reels, paylines remain fairly subdued at 60 which keeps things manageable.
Wannabe Hound Dogs can set bet levels from 0.50 coins up to a respectable 100 coins at the most. This provides ample gambling opportunities for most Elvis fans to take part in. The RTP is slightly underpowered at 95.72%, but nothing to get 'All Shook Up' over, and with a top prize of 2,000x the stake there is plenty to play for.
The physical version of Elvis Lives pumps out some of the King's greatest hits. We don't get that with the online version, but we do get an infectious soundtrack that is impossible not to tap a foot along to. Graphics are good too, with the occasional animation thrown in to bring the King roaring back to life. The initial impression is a great one, so how does the gameplay match up?
Gyrating symbols
There are a lot of symbols and extras in Elvis Lives slot, ensuring that there is never a dull moment. Since Elvis was the King of Rock 'n Roll, we get the K, Q, and J as the lowest value symbols. Each one of these symbols has been designed to look fresh and new which is a nice touch.
The mid-level of the paytable is where four more Elvis related symbols reside:
sunglasses;
flower;
microphone;
the eagle;
Elvis in Concert icon.
This is followed by three oversized high pay symbols that capture Elvis at different stages in his career. We get early Elvis, leather-clad Elvis, and Elvis glammed up for his Vegas shows. The Wild is the TCB symbol – Taking Care of Business. It is worth money in combinations on its own, but it can also replace any other base game symbol.
At random times, the middle 3 rows combine to form one big reel. Then, 4 different 4×3 mega symbols take over to provide more winning potential. This is the Elvis reel, and symbols that trigger bonuses can also land here. This part is really well done. The mega reel combines perfectly with audio effects to create some super intense moments.
Elvis Lives Slot Bonuses
Four different bonus trigger symbols can land on the Elvis Reels. These are Aloha Free Spins, TCB Free Spins, Jumpsuit Picker Bonus, and Elvis Lives Bonus.
Aloha Free Spins
The player is awarded 7 Free Spins which includes Wandering Wilds, and Wandering Doubles which pay double the payout if it is part of a winning combination.
TCB Free Spins
This feature starts with 5 Free Spins. The aim here is to land Ring Symbols in combos of 3 of a kind. Do this to receive multipliers of x2 –x5 for that spin.
Jumpsuit Picker Bonus
This is a bit of an odd one, but one that can be worth some serious cash. The player starts off by choosing 3 stones from the jumpsuit and revealing their prize. Each pick can result in even more picks which can lead to higher levels and greater rewards.
Elvis Lives Bonus
The aim of this game is to light up the ELVIS LIVES sign on top of the reels. Cash is rewarded at the end of the feature for the number of letters that are lit up, while the jackpot will be paid out if all letters are shining bright.
What makes Elvis Lives slot so special
Elvis Lives is a great slot game with several features that make it stand out from the crowd. The first thing, of course, is the 5×12 setup. Yes, it has been done before, but it is not a format you see often so it retains a level of surprise when it loads up.
This layout makes it perfect for the Elvis Reel, that big middle space that takes over the 3 middle reels. When this happens, it gives players a chance to both re-live some Elvis glory while also lining up one of the 4 bonus games. And the bonus games are a blast as well, with 4 chances to rock with the thrills and roll with the winnings!
So what kind of player is suitable for Elvis Lives? A wide variety, and not just fans of the King. The game will suit all music fans, or those looking for a unique slot. If you are looking for good winnings and an all-out good time then you owe it to yourself to give Elvis Lives a whirl.
Play Montezuma Slot at these Online Casinos