4 Mobile Slots That Can Be Easily Played on Smartphones
3 June 2019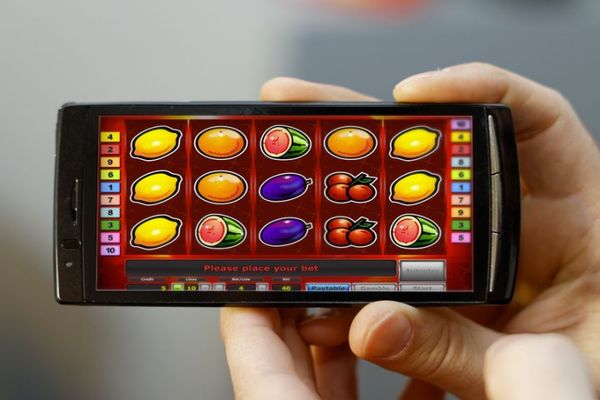 According to Statista, there are nearly 5 billion smartphone users on the planet. The world continues to deepen its obsession with everything mobile and gaming plays a vital part in this.
We live in a golden age of convenience and connectivity with endless entertainment options just a finger press away. Gamers can play anywhere with complete anonymity if they so choose. Thousands of mobile slots are available to enjoy on a smartphone, including most slots on this site.
With so many fantastic games to choose from, we have picked four mobile slots that can be played easily on a smartphone. You won't go wrong with!
Starburst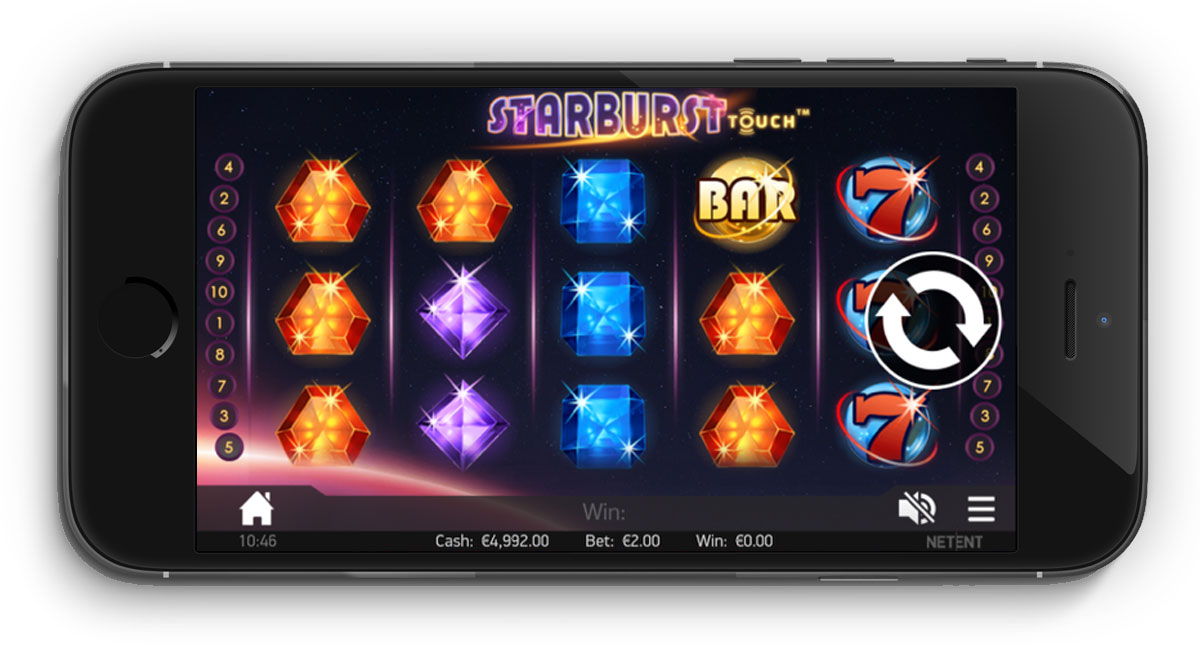 Let's start the smartphone adventure off with an absolute classic.
We'll admit that this is a slighter older title, but it has proved its worth over the years and has remained a firm favourite with slots fans. Don't expect cutting edge graphics, but what you do get is a rock-solid game engine with plenty of cosmic action thrown into the mix.
To ease your way into mobile slots, Starburst has a simple set up that uses 5 reels, 10 pay lines, and a friendly RTP rating of 96.1%. This allows the game to shine, free of any complication. And shine it does, with precious jewels that shimmer tantalisingly. Make sure to pop your headphones on if possible to enjoy the soothing soundtrack that adds a touch of relaxation to the experience.
Expanding wilds contribute to the relentless pace as players power their way to a potential 50,000 coin payout. The simplicity and satisfying winning potential combine to form an unmissable smartphone slot.
Dracula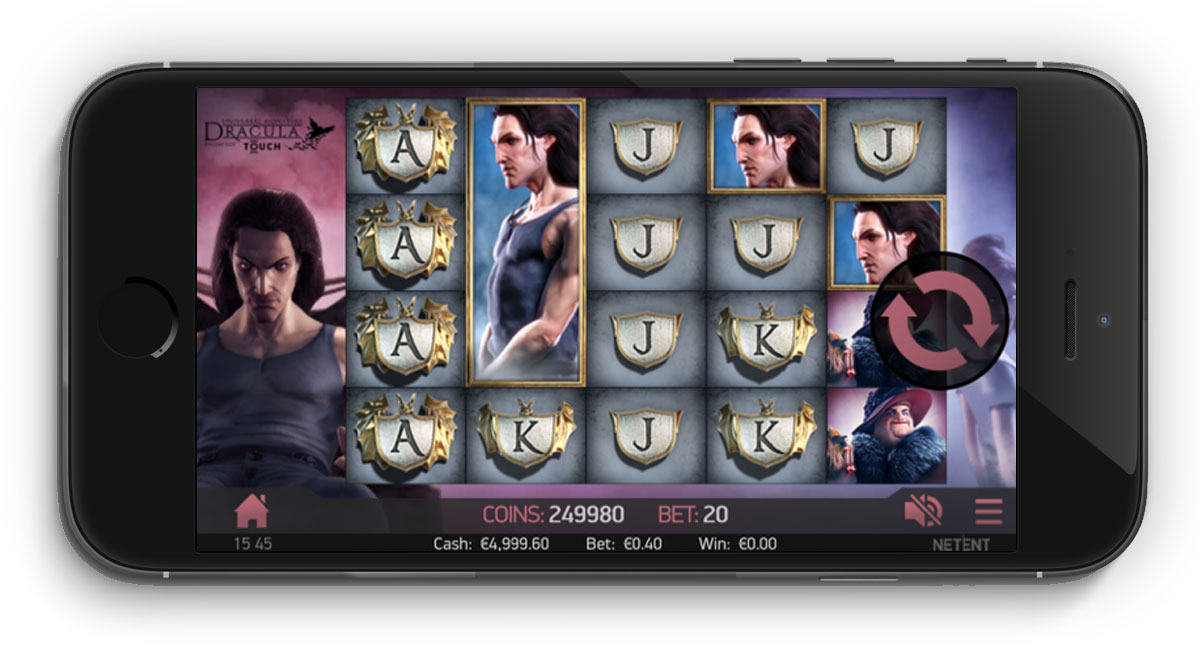 If you prefer something a bit darker then why not give Dracula slot a spin? This fiendish character of the night has provided chills for centuries and can still send a shiver up the spine.
Dracula ups the complexity factor with wilds and free spins. This slot will appeal to gamers who like a fright as well as history buffs who will appreciate a trip back to early England. Dracula possesses an above average RTP rate of 96.6% as well as a high variance level to reward players with a good number of wins as well as substantial payouts.
This being a NetEnt title you can expect a visual treat to go along with the gameplay. Dracula's trump card is the Bat Feature where the dark one evaporates into a cloud of spooky bats, and where fortunes can be made.
Fortunes of Sparta
Myths and legends make great slot themes, and few come larger than life than those involving the Spartans of Ancient Greece.
Unleash your inner warrior with this action-packed Fortunes of Sparta slot game from Blueprint Gaming right on your smartphone. Like a shower of Persian arrows, the 97.7% RTP rate can rain down wins on lucky battlers. The top prize for conquering heroes is an excellent 100,000 coins that you can use to outfit your army with for the next conquest. The struggle takes place over 3 rows and 5 reels, which contain gorgeous symbols right out of the Spartan playbook.
Keep an eye out for boats, armour, and weapons, as the reels spin, and make sure the volume is up to enjoy the rousing soundtrack. Gamers looking for legendary action will be more than satisfied by this mythological slot.
Mega Moolah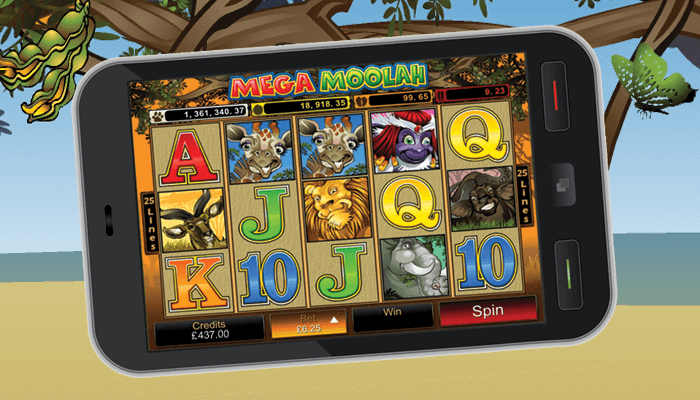 We haven't saved the best till last exactly, but we have held back the biggest jackpot till last. It might be hard to believe, but the smartphone you have in your hand (or pocket) right now can turn you into a millionaire.
Mega Moolah from Microgaming is a progressive jackpot slot with a top prize that continues to grow until someone is lucky enough to win it. Then it resets and starts its stratospheric climb all over again.
Mega Moolah's simple, cutesy look belies a compelling slot that is hard to put down once its potential has been realised. Even setting the jackpot aside, this slot has a lot to offer. Its 3 rows and 5 reels are littered with wilds, scatters, and free spins galore for exciting play and profit. You will quickly discover what makes Mega Moolah one of the most popular games of all time on your mobile device.
In conclusion
Chances are you are reading this article on a smartphone which means that slots fun is just a couple of presses away. So what are you waiting for? Pick one of these fantastic games and head over for a spin. Don't forget to turn your device sideways for the full experience and enjoy the fun!