GAME DETAILS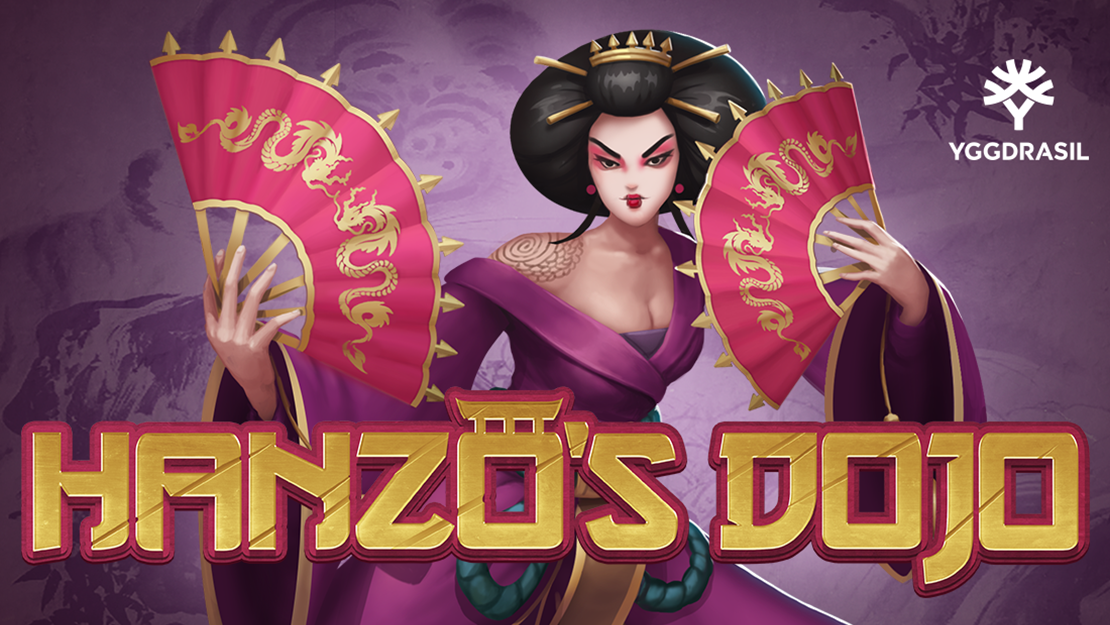 Rating

Overall Ranking
Yggdrasil Ranking
Software
Game Types
Game themes
Release date
RTP
Hanzo's Dojo Slot Game Review
Hanzo's Dojo is an Asian themed slot set in the exotic country of Japan, the Land of the Rising Sun. Ancient Japan was famous for its warriors, boasting legends like the brave samurai, and the cunning ninja. Both of these famed fighters make an appearance in Hanzo's Dojo, along with sumo wrestlers, geishas, and Hanzo himself.
A dojo is a space such as a hall or room where people come to meditate, learn, practice martial arts and fight. Here the battle is for coins and Hanzo and his warriors will do their best to either help or hinder you depending on how the stars are aligned.
A bevvy of extra features has been crammed into Hanzo's Dojo slot for the aspiring warrior to absorb. Free spins, expanding wilds, and an extra reel are among the tools in the sensei's toolbox for rewarding his students.
Hanzo's Dojo Slot Game Features
Yggdrasil are the developers behind this slot game and have once again showcased the talents of their developers. The slot is a real delight to look out with its beautiful symbols, and it possesses one of the dreamiest soundtracks we've had the pleasure of listening to in a while. The music provides the perfect counterbalance to the frantic action that takes place on the reels. Let's take a bow, and join Hanzo in his dojo.
Choose your fighting style
An atmospheric introduction draws you into the dojo and sets the scene. Yggdrasil has gone with a traditional 5 reel x 3-row slot with 25 pay lines. What sets it apart though is the 3×1 Rooftop Reel at the top of the screen. This additional reel turns up extras, such as wilds, to create more winning combinations.
The slot has a broad selection of betting levels. Coin values start at a low rate of 0.004 up to a top level of 5. This is then multiplied by the 25 pay lines to give total bet values of 0.10 to 125 coins. Combatants can enjoy an average RTP rating of 96.1% in which to try their luck.
This mid-level RTP rate has been joined with an attractive max win of 100,000 coins which should satisfy all but the most hardened warrior.
Ready… fight!
Hanzo's Dojo slot has eight base game symbols made up of four lesser and four higher paying symbols. The low pay symbols have been adorned with beautiful Asian style patterns. They can be expanded to a giant 3×3 size, and when they do then the intricacy of their design can really be seen and appreciated. Three of a kind returns 5x – 10x the coin value, while five of a kind returns 30x – 60x the coin value.
The high pay symbols are four characters from Japanese culture. Despite being people, they don't have quite the same level of beauty as the low pay symbols. They do have more worth though.
Ninja (20x, 50x, 160x);
Geisha (30x, 60x, 180x);
Samurai (40x, 75x, 200x);
Sumo wrestler (50x, 100x, 235x), for 3,4, and 5 of a kind.
Those keen to visit the dojo can do so on most mobile devices, as well as tablets and of course desktop computers. The game can be played for free until all of the rules and extras have been mastered, before putting on the black belt with real money versions.
What about Bonuses
There are many bonus features with so much detail that we might not be able to go into all of it here. Safe to say that playing the game will give you a good understanding of the intricacies, so let's look at the key points.
Wild symbol
The mask is the wild symbol which comes in two forms. On the main five reels, it can stand in for any of the base game symbols. If it lands in the Rooftop Reel, however, it can substitute for the Hanzo symbol, and it also expands downwards to cover the entire reel below it.
The Hanzo Symbol
Land three of the Hanzo symbols and you will be rewarded with 3 Hanzo Spins. One of the base symbols will expand to 3×3 size and stay stuck in the middle three reels for the duration of the spins. This expanded symbol can be a wild if expanding wilds were used to trigger the feature in the first place.
Free Spins
The Gong is the scatter and 3 or more launch up to 15 free spins. If the Gong lands in the Rooftop Reel then it can also bestow a booster. These boosters can come in the form of extra free spins, symbol nudges, multipliers, extra wilds on the fifth reel, and both way pay lines.
What makes Hanzo's Dojo slot so special
Hanzo's Dojo is another slot that has used its Asian theme well to produce a game that is as exotic as it is successful. It has slightly understated graphics which are none the less gorgeous to look at.
The symbols, in particular, have been exceptionally well-drawn. The sound, which we mentioned before, is just a treat to listen and spin along to. Audibly and visually then, this is a slot machine that warrants attention.
Fortunately, it has the gameplay to turn a good first impression into a long-lasting relationship. The Rooftop Reel feature has been done well and provides frequent extras which help the winning combinations land. The expanding wild seemed to land regularly while we were playing it which was much appreciated. This might have been down to beginners luck, but it left us wanting more.
Along with wilds, the rest of the bonus features are one of the key selling points of the game. There is just so much to take in and incorporate that it never gets dull. The free spin boosters are a fantastic addition and the expanded 3×3 symbols add yet another dimension to the game when they land.
We had a whole lot of fun testing this slot out, and it will appeal to martial arts fans or fans of Japanese culture in general. Hanzo's dojo is undoubtedly an entertaining game with plenty of fighting fun to be had.
Play Hanzo's Dojo Slot for Real Money