GAME DETAILS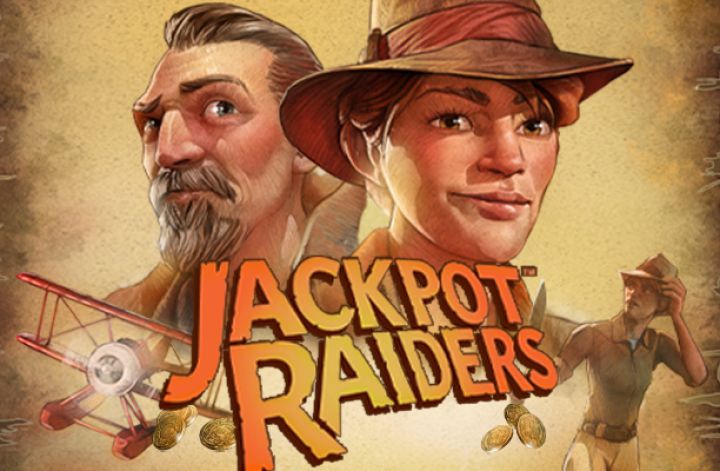 Jackpot
Rating

Overall Ranking
Yggdrasil Ranking
Software
Game Types
Game themes
Release date
RTP
Jackpot Raiders Slot Game Review
Before Google Maps, you couldn't just pick any spot on earth and see what it looked like on street view. The world seemed bigger back then, more mysterious and full of adventure. It is this older spirit of unknown adventure that Yggdrasil has conjured up in this Jackpot Raiders slot game.
Okay, we'll say it, it has the feel of Indiana Jones in the 1940s, but is by no means a copy of those successful movies. Where it mainly resembles the 'man in the hat' is in its high adrenaline action, exploration, and the unearthing of treasure. Players join two unique characters as they spin reels to unlock chests, and find maps to unlock 5 different jackpots.
This being Yggdrasil you don't just get a well put together slot that looks and sounds fantastic. You get backstories, console-style bonus games, and a brand new world in which to lose yourself. There is a myriad of ways to try your luck and win big. And as ever with this developer, it is all done in the utmost of style.
Swing, Run or Fly Into Action
Jackpot Raiders goes to show that there is no limit to the amount of action you can squeeze into a 5 reel x 3-row slot. Its 20 pay lines are fixed and cannot be changed, though the bet levels can be set from 0.10 coins up to 40 coins via the coin setter.
The win rate is good due to an RTP rating of 96.3% and it possesses a Legendary Jackpot which starts at 15,000 coins and can increase. Yggdrasil has developed the game so that players can be raiding jackpots on a range of devices, in real money and free play versions.
Jackpot Raiders Slot Features
Jackpot Raiders slot gives players the chance to pick one of two characters for bonus games. The grizzled, Sir Bear Buckingham, is good for lower rewards but has a greater chance of success. Or you can go for the young whippersnapper, Sam Campbell, who has lower rates of success but greater reward possibilities.
These two characters are also the most valuable symbols during the base game. Symbol payouts are based on the pay line value, and Sir Bear is worth 60x, 220x and 2000x for 3,4, or 5 of a kind. Fantastic value, but Sam is worth even more at 70x, 250x and a huge 4000x for five of a kind. At the top betting level, we are talking about 8000 coins from a single pay line!
Following these two characters are the Fedora Hat, and the backpack for 40x – 1,000x the pay line value. Lastly, are the card suits, decorated with dot to dot travel routes. Three of these start at 20x and move up to a max of 200x. So far so profitable, with excellently valued symbols. But we have only scratched the surface of the game's potential.
Jackpot Raiders Slots Machine Bonuses
Jackpot Raiders slot machine provides a boatload of additional ways of uncovering the treasure. Let's start with the free spins.
Jackpot Raiders Free Spins
There are three ways of triggering this feature. The compass is the scatter, and three of these activate a bigger compass that can reward either the Bonus Game or Free Spins like so:
3 scatters provides 10 Free Spins.
4 Scatters provides 10 Free Spins and 1,000 coins.
5 Scatters provides 10 Free Spins and 10,000 coins.
The big compass can also turn up in the Pick & Click Game for 10 Free Spins. Lastly, if the player collects 5 maps of the same colour, it results in 10 Free Spins as well as one Jackpot Gem.
Two scatters on their own is still a result. Two will trigger the Pick & Click Chest Game where the player opens one of several locked chests to receive its loot. All Jackpot Free Spins come with an x3 multiplier.
Sunken City Free Spins
This feature is triggered by collecting 5 relics during the Treasure Hunt Bonus Game. These spins come with an x10 multiplier and start with one gem in each of the jackpots. Fill one jackpot with all five identical gems to win the associated prize.
Treasure Hunt Bonus Game
As well as landing Free Spins, the large compass can unlock the Treasure Hunt Bonus Game. This is a brilliant video game styled feature. It starts with the player choosing which character they would like to complete it – Sam or Sir Bear. Each level has three routes to choose from – Safe, Risky and Very Risky.
These routes have ascending levels of treasure but with decreasing likelihoods of success. Play it safe and improve the chances of reaching the loot, or live life on the edge but risk tumbling over – the choice is yours!
What Makes Jackpot Raiders Slot so Special?
Once again Yggdrasil deserves top marks for innovation and originality. Not to mention the always top-notch graphics and sound. They have successfully come up with yet another slot that is totally new and offers a number of features that are rarely if ever used like this.
Take the Treasure Hunt Bonus Game as an obvious example. Yes, it boils down to a simple choosing game, but most choosing games aren't as full of drama and suspense as this. If you select the Risky route and see your character fall at the last hurdle is a heart breaker. Or, they make it and the gamble feels amazing!
The vast number of bonus features is a real treat for gamers as well. The collection of treasure maps for example, or the accumulation of gems to unlock a jackpot never gets old. They all fit the theme and Yggdrasil never lets complexity get in the way of the fast-paced ride.
If you enjoy adventure, puzzle-solving, treasure maps, and nail-biting suspense then Jackpot Raiders slot has it all. This isn't a game where you sit back and relax. This is a slot game that sucks you into a charming world, a world of adventure and treasure. It's a blast and is perfect for those times when you want a game with more player involvement.
Play Jackpot Raiders Slot for Real Money