GAME DETAILS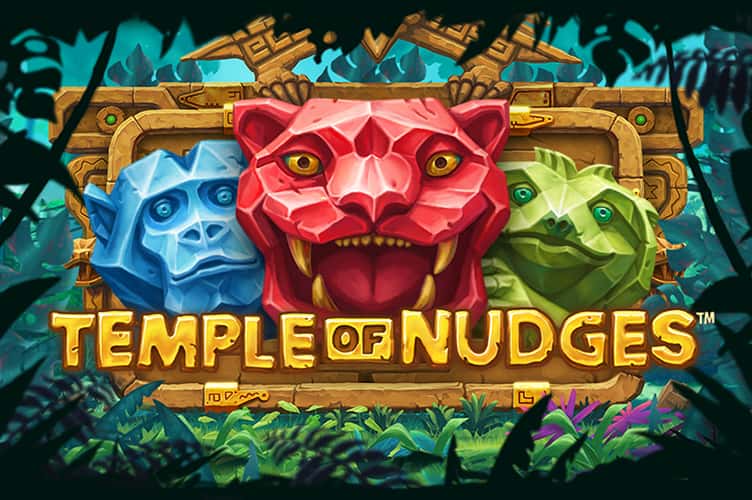 Rating

Overall Ranking
NetEnt Ranking
Software
Game Types
Game themes
Release date
RTP
Temple of Nudges Slot Overview
Popular Swedish developers NetEnt are taking us back to the jungle for some steamy slots action with their recent release. Reminiscent of Jaguar Temple but with a more down to earth feel, Temple of Nudges slot is a good looking game that has a couple of sweet tricks up its sleeve.
Two tricks it doesn't have are wilds or scatters. These features are surprisingly absent, so the game relies heavily on its Nudge feature that we will go into shortly. It also uses re-spins in an unusual, yet welcome way.
Will the game win you over? Well, it's not a huge payer but it is an entertaining trek through the jungle. NetEnt have set the bar high for themselves. So, when they release a slot that doesn't shake the foundations of the slot world there can be a tendency to feel short-changed. This is great for NetEnt because it shows just how successful they are at creating innovative slots.
Temple of Nudges slot may not push the boundary of what a game is capable of but it still has plenty to offer. With some lovely graphics and exotic sounds, it provides a nice break away from the noise and grind of city life. It's simple, it's fun, so let's strap on our adventure wear and conduct a thorough exploration.
Overview
Temple of Nudges slot has several figures that are found on a number of NetEnt releases. The slot uses 3 rows and 5 reels to provide players with 243 Betways. There are 8 base symbols, which are all original, but they have dual roles which create a total of 16 different symbols. The absence of any wilds and scatters are missed but the game makes up for it with the Nudge feature to increase winning potential.
A standard RTP rating of 96.03% has been programmed into the game to provide a decent number of smaller wins between the larger ones. Sadly, the game does not offer much in the way of massive wins though. This is a low-to-mid-level volatile game that offers a relaxed experience over a massive jackpot chase. To take part players can wager with bet levels from 0.25 coins up to an impressive 250 coins.
Exotic symbols
This is a good looking slot, there is no doubt about that. It doesn't push the limits of what graphics are capable of, but the visuals are exceptionally pleasant. All symbols are new, there are no well-worn card icons here. The background is basic but functional and works with the soundtrack to create a laid-back experience.
So the symbols are nice to look at, but, the sore point is that they don't offer a lot of value. The four low pay symbols are the Shape icons. What are these? Inca? Aztec? Perhaps they are a mash-up of ancient South American symbols. Anyway, these are worth a tiny amount for three of a kind and not much more for five of a kind.
The exotic animal symbols are slightly more interesting. These colourful characters look like a monkey, an anteater, a sloth, and a jaguar. The jaguar is the most valuable of the bunch with three of a kind worth 3 coins and five of a kind worth 9 coins. The remaining three are worth 2 coins for three of a kind, and 6 coins for five of a kind. Not the highest values out there so how are we going to rake in some profit in this jungle?
Bonus features
The low paying symbols might be a deal breaker unless there are other ways of upping the ante. Fortunately, we have help, and making a profit in this jungle is all about re-spins and Nudges. A Nudge is the close relative of NetEnt's Avalanche feature. How it works is that when a winning combination lands the Nudge leaps into action. The reels move up 1 space which can then result in an extra win. The process is repeated again until no more wins land. Then the player will need to hit the spin button again to get those reels moving. There is no limit to how many times the Nudge can be triggered which can result in some decent wins.
Free spins are the second bonus feature to grace the jungle with their presence. These can launch at any time. You will know when they arrive by the Re-Spin label that is attached to a symbol during a winning combination. When it does, the symbols that were used to make up the winner remain locked in place while all of the others spin again. Like the Nudge feature, this can lead to a chain of winners. When combined with the Nudge, this chain of wins can soon add up to a nice and tidy sum. If you are lucky to score a really big win, then coins come flying out of the mouths of the snakes on the side of the screen. It's all pretty exciting, to say the least, and makes the game shine at last.
What makes Temple of Nudges Slot so special?
This is a game that can really grow on you. At first, it seems like a simple, low action slot without wilds or scatters. Where's the fun in that? These are symbols that we rely on for big wins right? Well, NetEnt has bravely omitted these classic symbols in order to develop a couple of other winning methods.
And they work well. The Nudge feature is an excellent twist on the common Avalanche/Rolling Reels game engine we are used to seeing. It is surprising how many wins the Nudge method can string together and when you get on a good roll it is super exciting. The respin feature works well too. You will be surprised how often one becomes two or more and the good times roll along with the wins.
Speaking of wins, this slot will not become famous for its fortune-making ability. Instead, it provides an exotic journey through the steamy South American jungle. The symbols are refreshingly original and the gameplay is solid. Temple of Nudges slot is definitely worthy of further exploration.
Play Temple of Nudges Slot for Real Money