GAME DETAILS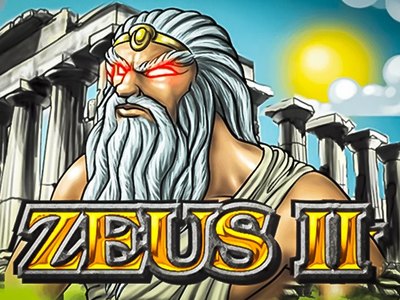 Rating

Overall Ranking
Habanero Ranking
Software
Game Types
Game themes
RTP
Release date
Zeus 2 Slot Overview
After a herculean effort from Habanero with the original Zeus game, the developers have returned with another lofty effort for Zeus 2 slot. The second game has plenty for fans of the series, of which there are plenty, and it should keep other slot aficionados relatively content too.
They haven't reinvented the wheel with this game and some players may be asking themselves "what's the point of this sequel?"
The answer is quite simple really – the first game was just too successful to not get a second outing. There were calls from Zeus fans for another game and those calls got so frequent that it would have been silly if Habanero didn't listen to them.
But is this sequel any good? The answer is yes, but with a little bit of a caveat; there are one or two issues which could be easily solved. The gameplay is decent, but at times the graphics look a little aged and the paytable is far from the most generous we have ever seen.
Zeus 2 Features
If the ancient mythology floats your boat, then you will already know the story of Zeus and all the other Greek gods. Thus, you will really enjoy the Zeus 2 slot as they have done their homework and the setting fits perfectly.
There are 5 reels and 3 rows with 25 pay lines to play for all you folks willing to give it a go. The mighty scatter, Zeus, turns up every now and again with a lightning bolt of free spins. Three or more of him will provide you with a minimum of 10 free spins.
There is a great bonus card feature which gives players the chance to double their winnings too. The chances to win are pretty plentiful and that's only a good thing when it comes slots. It also has that most wonderful of things in a slot – the progressive jackpot! This can be won at any time and could give a big and unexpected boost to your bankroll. Anyone who has ever been lucky enough to hit one of these knows how fantastic they are when you win one.
What makes Zeus 2 slot machine so special?
Zeus was the king of the Olympian gods who could rain down destruction on his foes or bless his chosen ones with gifts. Fortunately, the Zeus 2 slot machine from Habanero is free of destruction but it can still be rather generous with the gifts.
Take the free spins for example. If you are lucky enough to get 5 Zeus bonus symbols, you will be blessed with a whopping 100 free games. It is rare to see such a large amount and to top it off the free games can also be retriggered.
Find Zeus on a good day
If Zeus really takes a liking to you he may even bestow that randomly triggered progressive jackpot. The trick is to find him on a good day and if your luck is running high he might just be in a giving mood.
Along with the big man is a host of other symbols and imagery that bring Ancient Greece to life. The grim remains of the Parthenon in the background set the scene for this mythical slot, invoking the theme and the magic of the era. Ancient Greece was one of the first great European civilisations and the spirit of the age is captured nicely in the game's symbols. Each one represents a well-known icon of the times from music, to sports, gods, and pottery.
Zeus may have had the power to control thunder or lightning but his slot is a lot mellower then you might expect. There is a distinct lack of music in the background which feels odd at first, but which soon adds to the relaxed atmosphere. To be honest, this Zeus 2 slot game could be a bit livelier and exciting given its subject matter. But it is still a fine game and one that evokes the memory of a civilisation that invented many of the things we still use and take for granted.
Play Zeus 2 Slot for Real Money