Mega Fortune Dreams Makes Dreams Come True for Casumo £2.7 Million Jackpot Winner
25 September 2017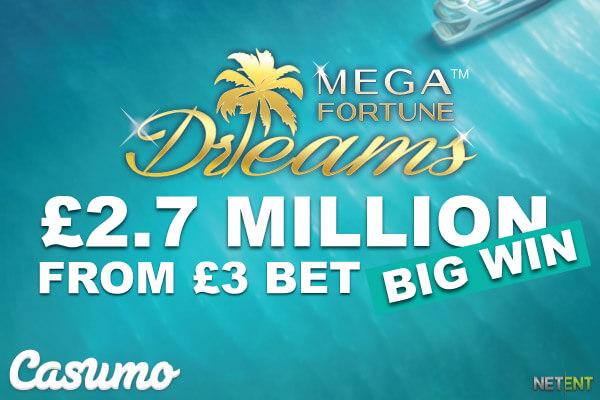 Progressive slots with massive jackpot rewards are that edge that keeps people spinning every day, and every once in a while, with the thrill of not knowing where and when someone hits the big one – the chief prize that changes their life and the lives of their loved ones.
Casumo Casino is one of the web locations where huge payouts have been happening lately, and there are still several big jackpots available at Casumo's slot casino lobby. Imagine all that cash up for grabs and you only need to give so little in order to receive so much; sometimes all it takes is a registration and a consistent flow of real money wagers, even the smallest ones could send you off on a right path towards millions!
During 2017 alone, so far, Casumo Casino has paid out £10 million in jackpots. In other words, there have been three progressive jackpot winners at Casumo in four months' time. Our main subject for this piece is the latest win, one achieved by Susan, a recently retired lady who had a stroke of luck and now gets to enjoy her retirement on the highest level.
Susan's story is quite interesting and inspiring, considering the fact that she doesn't normally play slots often. She considers herself more of a bingo player, and her casino track record proves it but this one time her Casumo account had only £9 remaining and it seemed like a good idea to place a bet, just for fun, on Mega Fortune Dreams and see what happens. Susan placed a wager of £3 and won £2.7 million in return!
According to her follow-up statement, she couldn't believe what happened. Neither the fortunate winner nor her partner could actually hold a belief that a £2.7 million win was just announced by the cheerful fanfare of NetEnt's Mega Fortune Dreams. It was a huge jackpot and it was simply too good to be true. It was when a member of the Casumo team called to confirm the lucky event did the happiness and reality of the situation sink in. Susan became an instant millionaire at almost 60 years old! Naturally, everybody was curious about what will she plans to spend the money on, and Susan gave a reasonable response – a bigger, new house and a few wishes granted for her partner who is a major cars and motorcycles fan. Brilliant ideas, if we may say so.
Mega Fortune Dreams made another daring winner's dreams come true, and the greatest thing about it is that Susan only wagered £3. This means anyone could strike it big with the smallest of bets and an active, funded account. You could easily follow in the footsteps of Susan and all the other blessed Casumo players who've been fortunate enough to hit it big. Just register an account and gain access to Mega Fortune Dreams and an assortment of other attractive progressive jackpot slots whose prize pool keeps rising as you're coming to the end of this sentence.