GAME DETAILS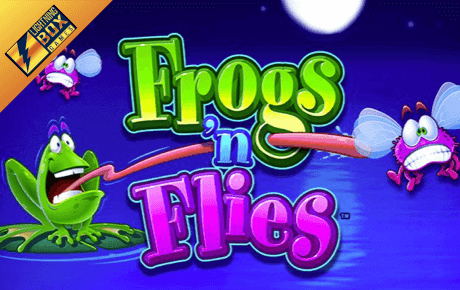 Rating

Overall Ranking
Lightning Box Ranking
Nyx Interactive Ranking
SG Ranking
Software
Game Types
Game themes
Frogs 'n Flies Slot Game Review
NYX, Lightning Box, and SG Digital are all involved in the release of this Frogs n Flies slot game, making it a real international effort. This standard slot features a waterscape in bright clues featuring a cast of cartoon characters and a list of bonus features that includes 1,024 ways to win, extra wilds, drop in symbols, and a free spin bonus round.
If you like this game you might find plenty more similar titles to explore from the same developers, who have made something of a template of this style.
The Facts and Figures
Frogs 'n Flies slot has been floating around the pond since 2013, so it's quite a vintage title. It uses JavaScript, Flash (may need to be enabled on some browsers), and HTML5 to deliver and should be available on all platforms.
The theoretical return to player is high, at 97%, with a 25,000 coin top win. Betting runs from 0.4 to 20 coins on those 1,024 ways to win – these are created by enabling non-linear pay-lines.
The Looks
There's no getting around it, Frogs n' Flies slot machine is somewhat old-fashioned and even childlike in its graphics. That's not a huge criticism, as the cartoons are fine, and it's very easy to find your way around, but there's a flatness to the feel of the game, and it's very bright.
In any case, this is all a matter of taste – perhaps you love bright blue, and the cartoons made me smile! The controls are good and up to date though, with simple buttons along the bottom of a screen that features invisible reels in a five-by-four grid with little framing.
The Frogs n' Flies Slot Game
Gameplay in this body of water is relatively simple, and the main feature is a free spins bonus. Wilds are mixed up though. The frog is the main wild. And there is a bonus wild on the free spins game – a purple fly for some reason.
Free spins are scatter-triggered and come in fives, 10s and 20s. The number of scatters that trigger the round also determine what the multiplier on wins is. The game can retrigger and there doesn't appear to be a limit on the number of times it will spin again.
The Rewards
Ribbit! Yes, the frog's the guy you want to see. He has no value, but the scatter (the game logo) pays 200-times stake for three, 1,000 for four, and 25,000-times stake for five, the top prize.
In the standard game, nines pay 25, 50, and 250-times stake for three, four and five symbols. Then we go through:
10s and jacks (25, 50, and 250);
queens (25, 200, 275);
kings (25, 200, 500);
aces (50, 200, 50).
The picture symbols are a lily pad paying 250, 400 and 1,250-times stake. The tortoise (375, 1,000, and 3,750); a yellow fish (500; 1,250; and 5,000).
What makes Frogs 'n Flies Slot so special?
If you like your games hard and fast, gritty, high octane, and ruthless, then Frogs 'n Flies slot will probably not dazzle you. Its cartoon graphics might not do the job of winning your favour and interest could quickly wane.
If however, you're into some light-hearted, laid back fun, then this is the slot for you. It's cute, it's carefree, while still retaining a nice top prize for those with patience. The gameplay is simple despite having over 1000 ways to win, so it's perfect for kicking back, spinning a few reels, and easing into the night.
The graphics aren't exactly cutting edge but there is something familiar about them. Like Saturday morning cartoons when we were kids. It's hard to put our finger on which one but the comfort factor they invoke is a perfect complement to the game's relaxed vibe.
The picture symbols have been well drawn and each one has a personality all of its own. This is especially true of the wild frog who jacks up winning combinations. If you are lucky enough to trigger free spins then his equally zany pal the fly enters the game with the ability to crank out even more winners.
Frogs 'n Flies slot is a game that really benefits from a good solid test drive before making a final judgement call on. It is available in free play so it is perfect for upping the stakes and powering through a few spins on autoplay.
It is a game that can be easy to write off at first glance but spend some time with it and it has the ability to win players over with its compelling gameplay. Wilds are frequent, the free spins feature can be surprisingly lucrative, and the loveable wee critters that
The Final Verdict
Do you like frogs? We all like frogs? So this is a game worth hopping along to. It looks nice enough in a simplistic sort of way, and there are some nice little animations and a fun and friendly theme. You feel like there are some missed opportunities in this game, but what is here is well delivered and could deliver big wins to the player. We recommend you dive into this pond at your favourite casino now.
Play Frogs 'n Flies Slot for Real Money