GAME DETAILS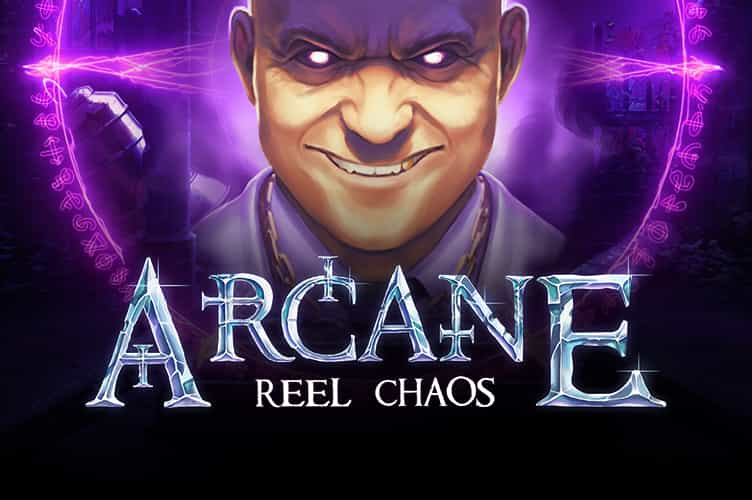 Rating

Overall Ranking
NetEnt Ranking
Software
Game Types
Game themes
Release date
RTP
Arcane Reel Chaos Slot Game Review
Fans of superhero movies will be all over this Arcance Reel Chaos slot from NetEnt. Set in a not too distant dystopian future, supervillain Deep Pockets is using his evil powers to wreak havoc on the city. Deep Pockets has used weird ancient magic to grant himself powers and lost more than a little bit of his sanity along the way. What will the city do?
Fortunately for its inhabitants, four unlikely superheroes are on hand to save the day. Each one is blessed with their own unique power to combat their arch nemesis and restore order. Even better for us, each hero brings their unique talents to the reels to boost winning combinations.
The rivalry between good and evil reaches a fever pitch during the bonus game. Here, heroes go head to head with Deep Pockets to save the city, and bring coins!
Is that a church?
The 5 reel x 3-row action in Arcane Reel Chaos slot is set in in a derelict old cathedral. Creeping ivy, along with smashed walls and windows, lets us know that nothing is right in this sad city. It is up to us to save the day. Paylines are fixed at 20, and bet levels can be set between 0.20 coins for apprentice heroes, up to 200 coins for the Professor Xaviers amongst us.
Arcane Reel Chaos slot has an above average RTP of 96.81%, and when you combine this with its low/medium volatility, you can expect a good number of frequent wins. This is a battle of attrition rather than an all-out nuclear strike.
This being a NetEnt release the graphics are of a high standard, as is the sound. Symbols, high pay symbols at least, are beautifully drawn, and the game is chock full of animations that liven the game immensely. Winning symbols sparkle, pay lines glow, and arcane signs fly from the reels when they spin. NetEnt has come up with the goods again in the visual department, and the game is a treat to look at.
The developers tried to make sure that as many players as possible can battle Deep Pockets for control of the city. To do so, they have made the game available on desktops, as well as mobile devices. It is a very niche theme so you can give it a spin in free play mode to find out if defeating villains is your cup of tea.
To the arcane symbols!
The low pay symbols are your stock standard 10, J, Q, K, and A and are pretty dull to look at, to be honest. Winning combinations come in 3s, 4s, or 5s and are worth between 0.25x to 5x the stake.
The five high pay symbols are our four heroes and the dastardly Deep Pockets. The heroes are worth – Psyop (0.75x, 2x, 7.5x), Chrono (1x, 2.5x, 10x), Zero.X (1.25x, 3.75x, 15x), and Flare (1.5x, 5x, 25x). He might be a baddy, but purple toned Deep Pockets is the most valuable symbol at 1.75x, 7.5x, and 50x the stake.
The glinting W is the Wild symbol and can stand in place of all other paytable symbols except the scatter.
Extra features
Deep Pockets unwittingly released an ancient evil and became cursed when he sold a strange talisman. This talisman is the Scatter and when three of them land, the bonus game is triggered, and it is time to do battle! No really, the Bonus Game is an actual showdown between good and evil. When a winning combination lands, the goodies inflict a hit on Deep Pockets. If no winner lands then the goodies take a hit. There are four stages to battle through, and each one is progressively harder to win, though the rewards increase as well. If players have what it takes to make it to the end, then an extra bonus is slung their way.
At certain moments in the game, one of the heroes can leap into play and help the courageous player out. Each one has its own particular power and way of boosting winning combinations.
Flare has the power of fire and creates a circle of multipliers to appear. The circle spins before stopping to land on a multiplier of x3, x4, or x5.
Zero.X is an unusual character – a two-headed priest with a two-headed cat. This serious looking hero is responsible for turning up 3 to 5 Overlay Wilds.
Chrono, our green coloured damsel, unlocks a special progressive multiplier gauge that sits beside the reels. Then with each spin that does not land a winner, the multiplier increases by 1 up to x10. Once a winner lands, the feature ends and the win is multiplied.
Psyop uses the considerable power of his mind to call forth Wilds onto the reels. These Wilds are stacked and take over a whole reel.
What makes Arcane Reel Chaos slot so special?
Arcane Reel Chaos slot is a game that merges an array of popular themes. It has got elements of action, adventure, superhero, magic, spirituality, all sorts. It works though. And it never feels crowded or overwhelming. On the contrary, each of these disparate elements works together to forge something unique that is well worth a try.
The back story is a good one too. It builds a compelling narrative so that you aren't just battling an unknown villain for the sake of it. We know all about him, and we know that he must be stopped! All we need are for the reels to fall our way and we can bring him down.
Helped in this mission are the four quirky heroes that show up surprisingly often to grace the reels with their unique powers.
This isn't a slot to play if you are looking for a massive jackpot. With a top theoretical prize of around 1200x the stake, it is relatively subdued when compared to other big payers out there. This isn't really the point, though. Arcane Reel Chaos slot is perfect if you are looking for a low/mid volatile game with a generous RTP rating, thick with atmosphere, and jam-packed with action.
Play Arcane Reel Chaos Slot for Real Money