Pride and Prey Slot Free Play Demo
Please switch your device to landscape mode to play this game.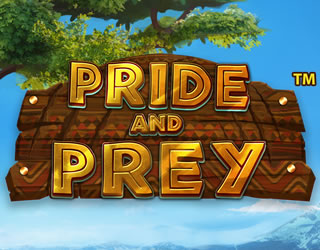 PLAY NOW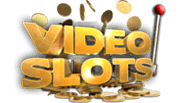 GAME DETAILS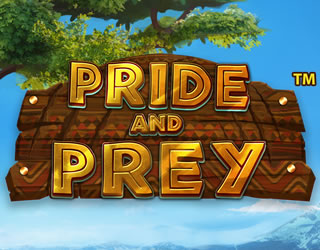 Rating

Overall Ranking
Red7 Ranking
SG Ranking
Software
Game Types
Game themes
Release date
RTP
Pride and Prey Slot Overview
The African plains provide some of the best hunting grounds imaginable. Hunters from all around the world flock here to trek and bag prey. But, hunting is dangerous, not to mention hard work. Why not relax at home and bag prey of the shiny coin variety? Red7 gives gamers the chance to do just that in their exciting new game Pride and Prey slot.
Wild animal themed slots are always popular, but you haven't seen one quite like Pride and Prey. Developers Red7 are renowned for adding interesting features to their games, and this one is no exception. What we have here is a slot with all the usual features, but with a list of extras that add a whole new dimension to proceedings.
Pride and Prey slot can be a little overwhelming initially. The Any Stake Rewards list on the left is the key culprit. It involves money, but how exactly does it work? It turns out that these Rewards are extremely compelling and turn a run of the mill African themed slot into one that outshines most competitors in the genre.
Pride and Prey at a glance
Red7 have created a slot that uses 5 reels, 3 rows, and 20 fixed pay lines. Big game predators can set heroic upper limits of 200 coins per spin, or go as low as 0.10 coins for some more cautious hunting. Keep in mind that larger stakes result in greater payouts from the Any Stake Reward table, so choose wisely. More on that shortly.
Red7 have slapped a generous 97.52% RTP rating on the game which should see a good number of wins paid out to users over time. This includes smaller frequent wins, offset by those elusive big game hits!
All of this is swathed in a lush wrapper of colourful graphics that brings the untamed African wilderness to your desktop or phone.
The paytable
A Pride is a group of lions, and like many African themed slots, the lion is one of the most desirable symbols in the game. The rest is a nice mix of wildlife and classic slot symbols.
Holding up the bottom end of the paytable are card suit symbols which are decorated in a pleasing fashion that fits the theme. All payout at the same level – 0.1x, 0.4x, and 1x the stake.
Once we get into the wildlife icons then payout potential rises significantly. First up are the giraffe and zebra for 0.4x, 0.6x, and 5x the stake. Then we get to lion country. Cubs will get you 0.5x, 1x, 7.5x, the lioness 0.6x, 1.5x, 10x, and the paw 0.8x, 2.5x, and 12.50x. The king of the base symbols is the game logo at 1x, 3x, and 15x the stake. Besides the pay symbols is a stampede of additional ways to win money!
Any Stake Rewards
These extra rewards make a huge impact on the playability of Pride and Prey slot. To the left of the reels is a list of tasks that are worth coins when they are completed. A couple of examples will help make this clear. One of the rewards is called Centurion Lion. Complete 100 base game spins and gets rewarded with 2x the average stake during them. Dizzy Lion rewards players for 20x the average stake after 1000 spins.
There is a huge range of tasks – some are hard, but some are easy to complete. Combined, they make Pride and Prey a tricky game to put down. Talking about easy – Lazy Lion rewards players with 1x their average stake over 5 non-winning spins in a row. Any Stake Rewards are a brilliant feature that you will have loads of fun playing with! Because most rewards are calculated using average bet levels, you can see why bigger means better when it comes to their rewards.
Are there any more extras?
There sure are! You can't have a game about wildlife without a Wild symbol. The Wild substitutes for any paying symbol and is also worth 1.5x, 5x, and 20x the bet.
The mighty maned male lion finally makes his appearance in the form of the Scatter on reels 1, 3, and 5. Land 3 and you will trigger 8 Free Spins. Land three more Scatters during the bonus round to receive an additional 4 Free Spins. What makes this feature special is that at the end of each spin, the lion can randomly slash a bunch of symbols. This turns them into Wilds, and hopefully, more winners!
The last extra is the Wager Saver. This unusual feature kicks in if the bank balance drops below the value of the previous wager. You can then risk the rest of the bankroll on a spin of a wheel that can return in 1x, 3x, or 5x the amount. It is a last-ditch offer, good for when you're in an all or nothing mood.
What makes Pride and Prey slot so special?
For whatever reason, and there are many, African/ Wildlife themed games make up a significant proportion of slots. Pride and Prey slot stands out among the throng for several reasons. It is clearly an attractive slot, but there is so much more to it than that.
The most obvious thing is the Any Stake Rewards feature. This feature would not be out of place in a full PS/Xbox game and is a great motivator to keep on playing. It rewards loyalty, good luck, and bad luck – the whole gamut. There are so many ways to win something that it is extremely difficult not to keep spinning! What helps is the inclusion of both long term and short term tasks. Players can be rewarded for completing a few spins, or 1,000! And everything in between. The rewards are good too. Actually, rewards across the board are sound which will keep players coming back for more.
To sum up, Pride and Prey slot is a fun, lucrative game that possesses a long shelf life due to its unique features. What more could budding slot hunters want?
Play Pride and Prey Slot for Real Money