GAME DETAILS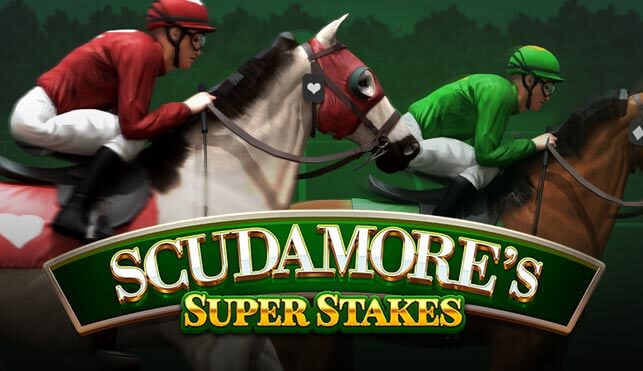 Rating

Overall Ranking
NetEnt Ranking
Software
Game Types
Game themes
Release date
RTP
Volatility/Variance
Scudamore's Super Stakes Slot Overview
Scudamore's Super Stakes slot combines the excitement of a video slot with the thrill of the race track, and you'll get the pleasure of hearing Scudamore himself commentate on the nail-biting horse race feature which is the game's main attraction. This is undoubtedly a very special branded title from NetEnt, and it was launched across all casinos March 7th 2020.
Many people have been waiting for this release, including us, and as you might well know already, Scudamore's Super Stakes slot is a collaborative effort between the famous Peter Scudamore (8 times Champion Jockey) and NetEnt (the leading slot provider in the business). It's a game with high variance, and you can win up to 5000 times your stake.
In the horse race bonus feature you get to pick your own favourite horse and race against 3 others. Each horse comes with unique features and winning potential. This might not look like the typical NetEnt slot, but the unusual graphics add to the authentic feel of the game. This is important for all those who love horse racing that will probably be attracted to this slot.
Technical details
We are going to take a closer look at all the fun features Scudamore's Super Stakes slot has to offer, but first of all, we want to give you a summary of the game's most relevant technical details:
RTP: 96.99 %
Variance: High
Layout: 5×3
Paylines: 10
Bonus features: Free spins, Bonus game and Random wilds
Bet size: 0.1 to 100
Max win: 5000x stake
As you can see, Scudamore's Super Stakes slot has an RTP of 96.99%, and this is almost a full percentage point above the industry average. Not a bad start at all. This is also a highly volatile game, so you need to take some precautions and adjust your bet level and bankroll accordingly.
Bonus features
Scudamore's Super Stakes slot has a total of 3 bonus features we'll take a closer look at here. On any given spin you can be rewarded with 2 to 5 random wilds, and this can give you some decent payouts in the base game. Nothing too fancy perhaps, but don't worry, it gets better.
It wouldn't be a Horse race track without the opportunity to place a proper bet, right? Well, the Bet Slip feature allows you to do just that. You get to choose 1 symbol that will be collected, and you also choose the number of spins you have to collect a certain amount of this symbol. If you manage to collect the correct amount of the chosen symbol, you'll win your stake boosted by a corresponding multiplier.
Now, these are the two bonus features you can have fun with, in the base game, but the real fun truly starts once you enter into the free spins feature. This is where every horse gamblers heart will start to pound a little harder, as you are taken into the Horse Race track and get to choose which horse to bet on.
Free Spins
Finally, we've arrived at the heart of Scudamore's Super Stakes slot, and this feature is called Peter's Classic Cup. All you need to do to trigger the free spins horse race feature is to land at least 3 scatters anywhere on the reels on the same spin.
The reel setup will then change to 5 reels and 4 rows (instead of the normal 3), and the number of ways to win will increase to 32 (from 10). The first thing you need to do is to pick which horse you want to bet on. You can choose between 4 different horses, and each one comes with a different payout potential and corresponding odds
Tin Foil Hat – Blue J symbols and Blue Jockey – pays 50x
Gonzo's Quest – Green Q symbols and Green Jockey – pays 100x
Berry Max – Purple K symbols and Purple Jockey – pays 500x
Divine Fortune – Red A symbols and Red Jockey – pays 5,000x
Obviously, the lower the potential payout, the bigger is your chances of actually winning the race. Each horse is connected to 2 symbols with the same colour as the jockey riding the horse. Any winning combination including these symbols will move your horse 1 spot ahead in the race. Any horse that advances 4 times will win the whole race.
Jackpot or max win
You'll not find any progressive or local jackpot on Scudamore's Super Stakes slot, but you can certainly win big here anyway. If you place your bet on the horse with the highest odds, and that would be Divine Fortune, you can win as much as 5000 times your stake. If you play with maximum stakes this means you can win a cool £500,000. A pretty good potential, even for a high variance slot.
Scudamore's Super Stakes Slot on Mobile
Scudamore's Super Stakes slot can be played on both mobile and tablet, and anything short of that would be a surprise when we live in 2020. NetEnt always optimizes their slots for all platforms via NetEnt Touch, and you can play Scudamore's Super Stakes on your Android devices or your iPhone and iPad.
Conclusion
Scudamore's Super Stakes slot has been anticipated for a while, and we think it lives up to the hype for the most part. Certainly, the graphics are not as good as we are used to from NetEnt, but we think this has been done on purpose to make the game stand out and give it an aura of authenticity.
It's the Horse Race feature that carries this game, and it's very entertaining and well done. The high potential certainly is a good thing, and most horse racing fans would probably enjoy this slot.
Pros
Free spins feature with horse racing bonus game
Hear Scudamore himself comment the race
Max win of 5000x your stakes
Cons
You probably need to be a horse racing fan
We're used to better graphics from NetEnt
Play Scudamore's Super Stakes Slot for Real Money