GAME DETAILS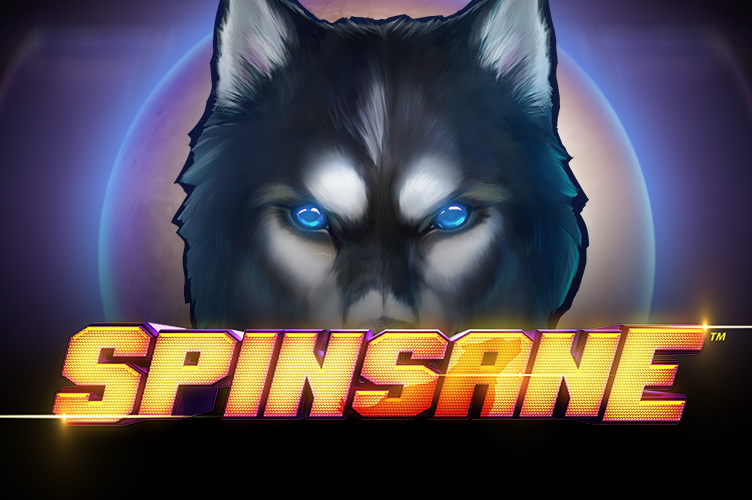 Rating

Overall Ranking
NetEnt Ranking
Software
Game Types
Game themes
Release date
RTP
Spinsane Slot Overview
Get ready to howl at the moon in NetEnt's latest wolf themed game – Spinsane slot. We are pretty sure they drew that name out of a hat because it doesn't seem to match the rest of the game. But that's why we love those creative types at NetEnt! They're always coming up with something new and unexpected to keep players on their toes.
Spinsane is an offbeat slot, with enough disparate elements to make it a real one-off experience. It can't be pigeon-holed in a clear game genre. Sure, it's all about wolves, but it also has the feel of an old school 3 reel slot with stepper mechanics.
Try and picture the creative team coming up with titles for that. 'Retro wolves then… What shall we call it?' 'How about, Spinsane!' Let's go with the flow and see where this madness leads us.
Of course, it looks good, this being a NetEnt product. The way the reels lag when they spin and stop looks ultra-realistic. As does the clicking and landing sound effects. Turn the volume up loud to enjoy the ambient bar sounds. Combine the sounds with playing on full-screen mode, and you'd be forgiven for thinking you were down at your local establishment, using a physical slot machine. It's eerie and brilliant at the same time.
Before we completely lose ourselves in Spinsane's subtle seductiveness, we better crack on with the review!
Spinsane's nuts and bolts
The insanity is played out on a grid made up of 5 reels and 3 rows. NetEnt has forgone cluttering up the reels with a bunch of throwaway symbols – many positions are just blank spaces. This doesn't mean it is harder to land winners, though. The game comes with a healthy 96.25% RTP rate and volatility in the medium to high range. Throw in a 5,000x top prize, and you have a slot with dynamite winning potential.
Picking a stake can be a tricky one. Wins are calculated against Coin Value, which can be set from 0.01 to 5, and Bet Levels of 1 to 10. In monetary terms, you are looking at spin costs of 0.10 coins up to 500 coins. Play around with the dials in free play mode if you aren't sure which way you want to attack this beast.
Symbol payouts
Moving to the paytable, no you are not seeing double. There are 6 paying symbols which are split into two groups – standard, and super symbols which are slashed. Super symbols are the ones you want as they are worth a lot more than their non-slashed counterparts. One good thing though is that slashed and non-slashed symbols can form winning combinations together, though they will pay out at the lower rate.
Due to the sliding scale of bet level and coin value, it can be tricky to calculate exactly what you get from symbol combinations. To keep it simple, we will use bet line wins in these examples. Bet line wins are the coin value multiplied by the paytable multipliers. So, standard symbols or mixtures of standard and super symbols start with the Fang Amulet for 2x, 5x and 25x. The Wolf Paw for 8x, 20x, 100x, and the Wolf for 40x, 80x, and 500x. Not bad right? Well, wait till you see the super versions.
The slashed Fang Amulet is good for 10x, 40x, 250x, the slashed Paw 40x, 80x, 1000x, and the slashed Wolf 100x, 400x, 5000x. That is a huge difference in rewards – it's no wonder they call them super symbols!
Wolfpack wilds and free spins
For a game that uses the word insane in its title, the extra features are fairly lean and unimaginative. In an attempt to whip the wolf pack into a frenzy, we get Wilds and Free Spins to sort them out. Unlike the unusual look and title of the game, the extra features are unexpectedly standard. Nothing wrong with them, they help increase monetary returns, but it would've been nice to see an extra that took advantage of the theme more.
Wild
The Wild we get in Spinsane does the bare minimum. It appears on reels 2-5 and can stand in for any other symbols except the Scatter.
Scatter
The howling wolf symbol is the scatter and 5 or more trigger Free Spins. The total number of Free Spins is double the number of Scatters that land on the reels. Each Scatter that lands during Free Spins, adds an additional spin to the total to keep the ball rolling. During each spin of this round, one reel becomes a Wild Overlay Reel. Basically, that reel is covered in Wilds, to pull together more combos.
What makes Spinsane slot so special?
Unless a player particularly likes Wolves then it is probably not the theme that will draw them in. Nor is it the extra features – neither of which is particularly original. That's not to say they aren't full of suspense-laden action – and let's not forget that 5,000x top prize. It's just that theme and features are not the main drawcard with Spinsane.
What sets Spinsane slot apart from the pack and makes it worth trying out is the way the game has been packaged. NetEnt has done a commendable job in making a game that recreates a classic stepper slot on whatever device you are using. The high quality of the graphics creates a believable visual representation, but it is the sound that pushes it over the top.
Sound can often be an overlooked attribute in a slot game. It doesn't have the immediate impact that graphics do, nor can you hear it in a screenshot, so it often takes a back seat. How would you classify the sounds on Spinsane slot? Sublime? They are good, whatever word you choose to describe them. The machine effects are well done, but it is that background noise that will suck you into another world. It is entrancing and when combined with all of the other elements in Spinsane makes it a great slot to play if you want to feel like you are out on the town.
Play Spinsane Slot for Real Money