GAME DETAILS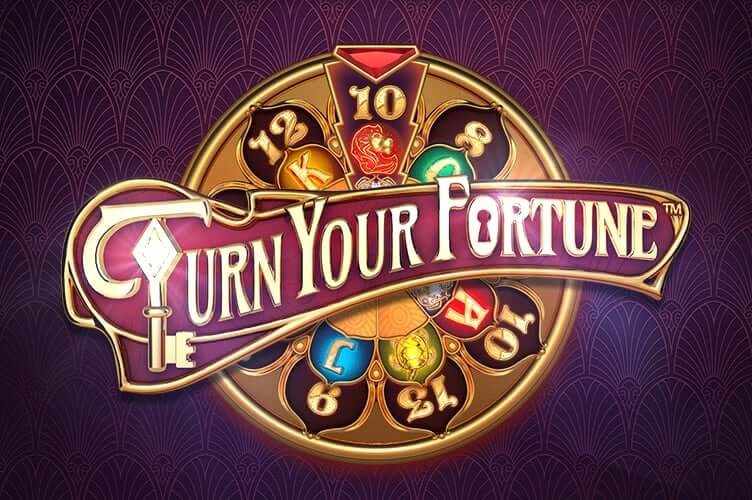 Rating

Overall Ranking
NetEnt Ranking
Software
Game Types
Game themes
Release date
RTP
Turn Your Fortune Slot Overview
Turn Your Fortune slot is a strange one. Just viewing the screenshots probably won't be enough to get anyone's pulse rate jumping. That is deceptive though. NetEnt has programmed a couple of complex features into this slot that can change a humdrum gaming session in an instant. And they have done it in a way that makes you want to do it again and again. This is gameplay that is compelling in a subtle way.
Unlike a few of NetEnt's recent releases, Turn Your Fortune slot machine has no back story to lay the scene. No intro to fire the imagination and an unfamiliar theme that appears to have little depth. There are rows, reels, and an unusual looking device on the side of the screen. What does it all mean?
If you are feeling wary then it is worth giving the game a crack in free play mode to see what it is capable of. Admittedly, the base game has lulls that can drag a bit, here and there, but the game is saved by its bonus features which have excellent winning potentials and are as fun as they are interesting.
First impressions of Turn Your Fortune slot can leave you wondering what NetEnt was thinking and quickly dismiss it. This is a shame because lurking beneath its unassuming exterior is an innovative game with a decent top prize of 2000x the stake.
Look & Feel
NetEnt have added an additional row to the typical slot set up. This gives it 40 pay lines that are spread across 4 rows and 5 reels. With an average RTP rating of 96.24%, not too many wins can fall during the main game, but the extra features get a boost.
The slot is suitable for virtually all gamers to turn their fortune. There are plenty of options for having full control over wager levels. Casual players will feel at home with 0.20 coins per spin and the game goes up to 200 coins a spin for those at the high roller end of the spectrum.
When it comes to looks we know that NetEnt can do better but they don't have to dazzle us every time. The look and theme of Turn Your Fortune is hard to pin down. There is a lot of gold, a lot of shimmers, with a touch of magic sprinkled in. If we had to choose something, it's like a sideshow tent at a circus, which promises mystery and fortune for the right punter. We liked it, but it's understandable if others may not.
Paytable and Symbols
The game is broken into low pay, medium pay, and bonus symbols. The low pay symbols are what you might expect, the common face cards:
Land three of a kind of these symbols and the payout will be 5-10 coins. Five of a kind will top you up with 20-40 coins.
If you are into gold and jewels you will appreciate the mid-level symbols. These attractively crafted icons might look more valuable than they really are, but they can still add up to a nice payout. In ascending order we start with the snail (15-50 coins), the fish (20-80 coins), the turtle (25-100 coins), and the owl (30-120 coins). The lion, the king of the jungle, tops the list with 40-200 coins.
Fortune Wins feature
That odd gadget on the left-hand side of the screen leaps to life during the Fortune Wins feature, either during free spins or the main game. This is when the fun really begins, and to be honest it is a little hard to explain.
Basically, the goal is to move the device to the highest level to earn maximum coins and multipliers. Pick up the right symbol and you will fill up a meter that can move you up a step of the device. Pick up a key symbol on reel 5 and the device will revolve one notch which raises the coins and multipliers to a higher value level altogether.
Key symbols can also cause the device to level up. +10 symbols fill the meter at a faster rate. All that you need to know at this stage is that Level 1 rewards range from 5x to 150x, while level 5 will get you rewards from 50x to the apex of the game which is 2000x. It's a great feature packed with tension and drama, and if you are lucky, a turn of fortune with it.
Bonus symbols
The lush pink and purple butterfly is the wild which can turn up on any reel and stands in place for all of the low and mid-level symbols.
The peacock symbol is the scatter which triggers the thrilling bonus features. It can appear on reels 1,3, and 5, and three will trigger the Free Spins with Fortune Wins feature. If a winning combination lands at the same time as 2 Scatters, this will also launch the Fortune Re-Spins with Fortune Wins feature. Basically, this guy is our friend and you will want him to land as often as possible.
What makes Turn Your Fortune slot so special?
NetEnt has once again crafted an intriguing slot packed with innovative features. The graphics are lush, the symbols convey a wonderful feeling of wealth and mystery and the sound rounds off the package. This is a game that needs to be test driven a few times before making a judgement. The main game has the potential to lag if you catch it during a quiet time which could cause interest to wane and miss the main event.
The Fortune Wins feature is what really makes the game stand out from the pack. When the meter starts to fill and your climb up the device begins it is really exciting. Pulse rate rises along with the tension and an excellent top prize which is tantalising within reach.
Once again NetEnt has shown their pedigree when it comes to creating something a little bit special for slots fans. Every now and then they flex their muscles and produce a classic that wows the community. Turn Your Fortune isn't quite in this category but is a fine game that we are looking forward to playing again.
Play Turn Your Fortune Slot for Real Money