GAME DETAILS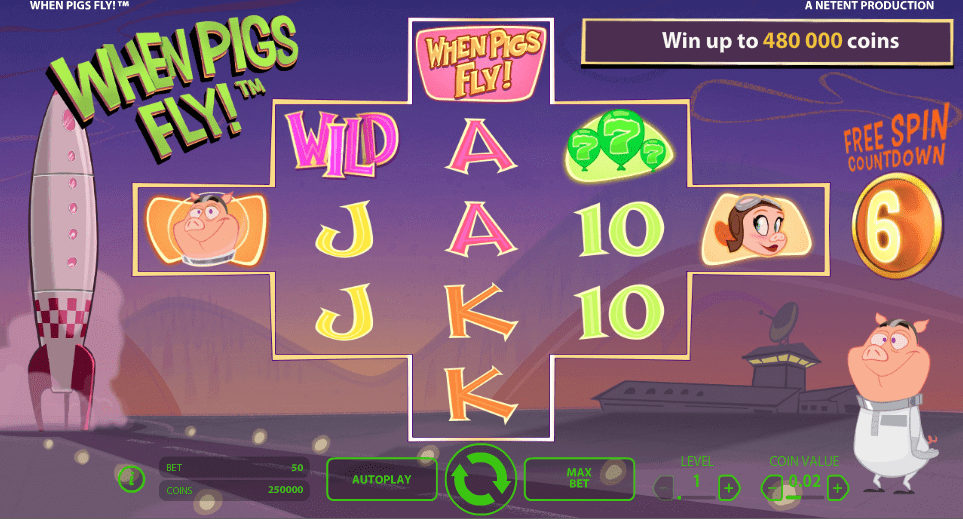 Rating

Overall Ranking
NetEnt Ranking
Software
Game Types
Game themes
Release date
RTP
Devices
When Pigs Fly Slot Overview
The space race has to be one of the most memorable affairs we have seen as a species. The rush to be the first into space, then to the Moon, and today, aiming our sights at Mars, the call of what exists out there has always appealed to us. When Pigs Fly slot is a NetEnt casino game that takes the popular saying and runs with it to make a surreal experience that gamblers can enjoy. It offers an expanding reel to players, increasing the number of pay lines you can win on as time goes on, and flaunts a powerful Wild symbol while doing so.
When Pigs Fly Slot Machine Features
Of course, if the diamond-shaped reels that slowly grow over time to increase from a 45 to 3125 ways to pay, while offering free spins if you manage to fully unlock it seems familiar, you aren't going crazy.
When Pigs Fly slot machine is a clone of another NetEnt game called Reel Rush, which had its fair share of people who liked it and hated it. It's a good way to measure whether or not you will enjoy this slot, as they use the same premise with slight differences. We personally aren't a fan of how the reels are set up, as starting with just one icon can really limit how much you can win, but it thankfully opens up soon after.
Beyond that, it is very basic visually. The graphics almost remind us of the Ren and Stimpy cartoons, especially as the pig gets progressively more excited the closer you inch towards those free spins that will send him on a trip into space. It embraces the wackiness in full, having fun symbols like an astronaut and a pilot pig, with some more uninspired ones like the logo of the game, as well as letters and numbers that really don't feel too impressive.
To Boldly Go Where No Pig Has Gone Before
Rather than go the boring route to have you activate free spins through Scatters, When Pigs Fly slot game makes use of its expanding reel and ties it in with the re-spins. You start off with a 1-3-5-3-1 setup to the reels, and you score a re-spin each time you land a win. Alongside this, the reels slowly open up as you chain wins together, up until you win six times in a row, which unlocks a full 5×5 reel, expanding the pay line amount from 45 to 3125, and scoring you 8 free spins for your troubles.
In general, during normal gameplay, you will be bleeding money more than you will be earning it back. It is possible to get some decently-sized scores, but there's nothing too fantastic about it. We expect most players will find their luck more with the free spins, but there doesn't seem to be much guarantee.
Unfortunately, this NetEnt slot seems more primed to throw you lower paying icons, which pay above what you're wagering but paired with a conspicuous amount of dead spins, it can get suspicious! Regardless, When Pigs Fly slot machine has shown itself a popular release, and despite our lack of luck, the promise of a good score is still there.
Play When Pigs Fly Slot for Real Money