GAME DETAILS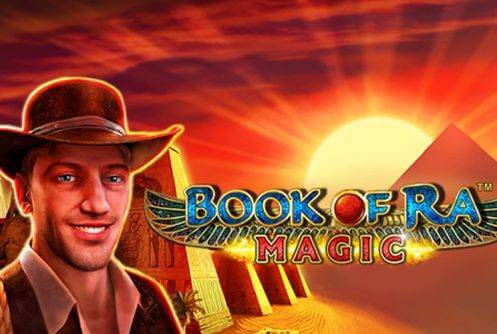 Rating

Overall Ranking
Greentube Ranking
Novoline Ranking
Software
Game Types
Game themes
Released date
RTP
Book of Ra Magic Slot Game Review
We're back off to Egypt again as Greentube, a brand name of Novomatic, take us back into ancient history with the help of their archaeologist character and a load of ankhs, hieroglyphs and sarcophagi, or something like that, for another episode of their popular series of Book of Ra games.
The Facts and Figures
This is a five-reel slot with three rows of symbols visible, giving you a playing field of 15 symbols. A set of 10 pay-lines run across this ground. The Book of Ra Magic slot game has a theoretical return to player of 95.03%, which is not very generous by current standards, but its high variance means it is (slightly) more likely to deliver bigger wins rather than more frequent small wins.
You could win a top prize of 50,000 coins (always check coin values and maximum pay-outs on the actual game you are playing as they may vary by the casino), on betting from 1 to 10,000 coins – which is a massively high range. Again, check betting limits on the site you're playing at. You can play this game on all devices that support Flash, JavaScript, and HTML5, which covers most options.
Book of Ra Magic Slot Gameplay
This Book of Ra Magic slot machine was released as recently as May 2018, and it looks very good indeed. The Card fonts are great, as are the symbols – a winged statue, a jewelled scarab beetle, and a sphinx head – all look great. The Book of Ra itself and our archaeologists are the bonus symbols. The full screen is atmospheric and beautifully lit, and the screen layout – on both big and small screen – makes it easy to play.
The Book of Ra is the bonus symbol and it's a scatter. When you see three of these popping up on the reels you've triggered the bonus round. Congratulations, you have 10 free goes!
Not only that, but the bonus round also chucks in an expanding symbol at random. You can also add another round by triggering the bonus again, adding another different expanding symbol, and you can continue to do this until you have gone through a full set of nine symbols.
The Rewards
The Pay-lines in Book of Ra Magic slot reveal these results:
The 10, Jack and Queen pay 0.5 coins for three, 2.5 for four, and 10 for five symbols.
Ace and King pay 0.5, 4, and 15. The scarab pays 0.5 (for two), 3 for three, 10 for four, and 75 for five.
The winged statue pays 0.5, 3, 10, and 75. The Sphinx's head pays 0.5, 4, 40, and 200.
The Book of Ra pays 2 for three, 20 for four, and 200 for five (as well as triggering the bonus round).
The archaeologist pays 1 for two, 10 for three, 100 coins for four and 500 for a full house.
What Makes Book of Ra Magic Slot so Special
If you spend any amount of time playing slots you will inevitably bump into the Book of Ra series sooner or later. The original was an absolute classic and its more recent follow-up, Book of Ra Magic slot, does a brilliant job of keeping the magic going.
This is a fairly new game, but it has paid homage to the original by keeping its graphics similar. They have been upgraded, but they are still familiar and comforting. This is Book of Ra, but a crisper, more modern version which has added to the experience.
Plenty of bonus features
Where Book of Ra Magic slot outshines the original is in its copious bonus features. This includes the free spins with its 9 expanding wilds. This is a thrilling addition to the series and one that is hard to put down once you have experienced it once!
Book of Ra was one of the early Egyptian themed games. Many video slots since then have used Ancient Egypt as their theme and it is easy to see why. It fits perfectly into a casino environment. It is colourful, mysterious, and provides developers with excellent options for symbols and imagery.
Book of Ra Magic still possesses the air of mystery from the original in spades. Along with the graphics, the sounds used throughout the game are relatively unusual, but they work. They zip along as the reels spin and create a harmonising effect that makes you want to keep on hitting the spin button.
It can be risky for developers to bring out sequels to successful slots. Like movies, they are often pale imitations of the original that can quickly crash and burn. Not so with Book of Ra Magic slot. This is another expansion of the Ra series that does it proudly and provides a ton of fun for fans.
The Final Verdict
There's nothing not to like about this game. It looks good, plays beautifully – on all the platforms we tried – and has entertaining and compelling gameplay. The one minor issue is that the Book of Ra Magic slot RTP is low for the current market and the volatility is high. But these measures are very marginal in the modern market, and you should certainly give this slot a spin if you like Egyptian themes.
Play Book of Ra Magic Slot for Real Money